Belleville-en-Beaujolais, 07/24/2023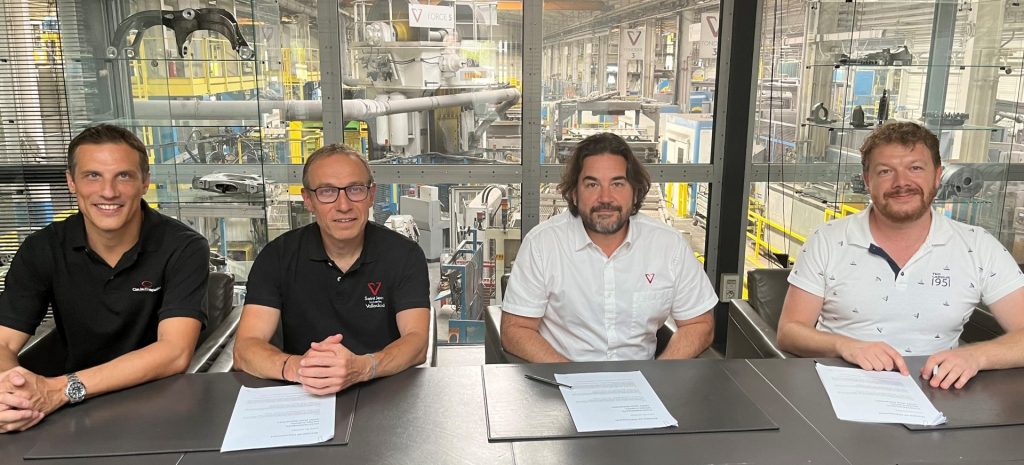 Our company, Saint Jean Industries, world leader in the automotive industry, is delighted to announce the signing of an exclusive agreement with Muses Motors, an innovative company specializing in the design of high-end electric vehicles.
This agreement marks a significant step in the development of the automotive industry, with a common commitment to sustainable mobility and technological innovation.
Assembly of the Muses 300 model from 2024
Ellectramobilys (ELM) develops and markets the Muses range of light commercial vehicles dedicated to logistics. As part of a relocation of its production, ELM has approached Saint Jean Industries to assemble from 2024 the cab chassis (excluding body) of the Muses 300 model which will redefine the standards of the automotive industry. This strategic partnership combines Saint Jean Industries' expertise in manufacturing high-quality automotive parts with the forward-thinking vision of the Muses range for advanced electric vehicles.
Both companies share a common vision for the future of mobility, with a focus on electrifying transportation and reducing carbon emissions. The vehicle will be the result of the fusion of cutting-edge technologies, precision engineering and innovative design that will both improve functionality for professionals while significantly reducing fuel consumption and the environmental footprint during of the manufacture and use of the Muses range. Through this fruitful collaboration, Saint Jean Industries and Muses Motors strive to redefine the standards of the automotive industry by offering sustainable and innovative mobility solutions. The two companies will work together to ensure efficient production that respects the environment and meets the highest quality standards.
About Saint Jean Industries
Saint Jean Industries is an international family group specializing in the design and manufacture of aluminum equipment for the transport and energy markets. Innovation has always been one of the key drivers of its development. Its head office is located in St Jean d'Ardières (F), but it also has sites in Germany, Croatia, Spain, the United States and China. SJI employs more than 1,900 people and achieved a turnover of €330 million in 2022.
Muses specializes in the design of highly innovative electric vehicles developing and operating the Muses utility range. Thanks to its avant-garde vision, it merges cutting-edge technologies and innovative design to offer a unique performance/cost/environmental impact equation. The company is committed to reducing carbon emissions while ensuring exceptional performance. The Muses range aims to redefine the automotive industry by offering electrified and sophisticated mobility solutions.
Rémy DUBOST – Mob : +33 651 896 288 – remy.dubost@st-ji.com