The structure of vehicles is often formed by a multitude of sub-assemblies using several alloys, and different complex manufacturing and assembly processes.
With the desire to push the limits of aluminum forming ever further, we integrate a maximum of technologies to design and produce these sets of parts, from pillars, bumpers, to cradles.
The battery pack is the key component of electrified and electric vehicles. It is the battery pack that will provide the vehicle's autonomy through its energy density and performance.
It is most often integrated into a lightweight aluminum structure that plays both a protective role in case of collision, and also a thermal management role to maximize the life and performance of the cells.
We have carefully studied these two functions in order to offer you the most suitable technological solutions.
Structural parts and crash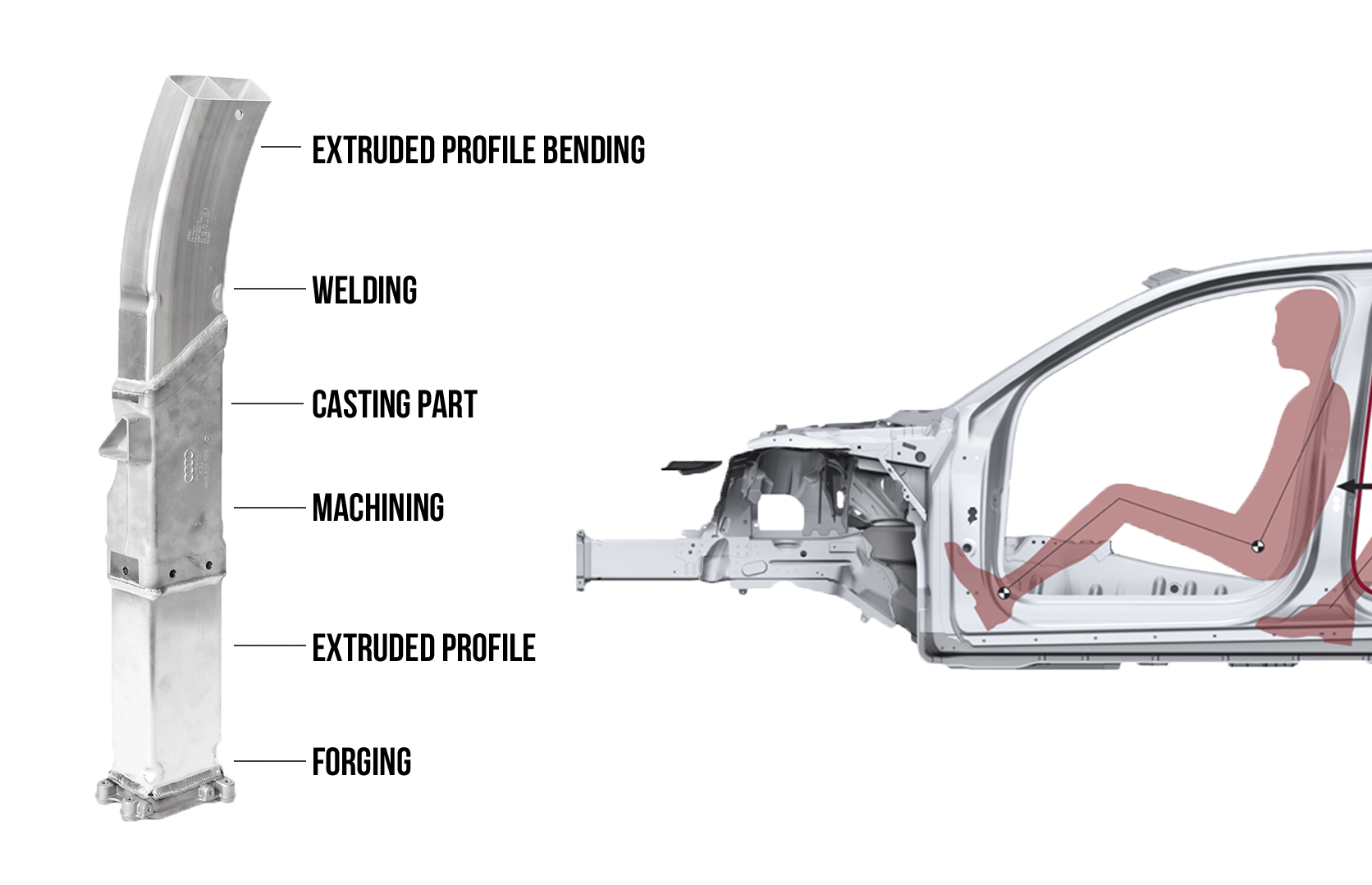 Extruded profile assemblies have many advantages for the construction of a vehicle structure.
They are light due to their low thickness
These extruded profile assemblies absorb energy perfectly in the event of impacts and collisions
They allow 3-dimensional bending to obtain complex shapes
These extruded profile assemblies are easily welded to each other and to other alloys from other manufacturing processes
We have integrated this assembly know-how, as well as all the processes necessary for the manufacture of structures for the automotive industry. We are thus pushing back the limits of lightweighting!
The cradle is a key part in automotive vehicles, because it allows the assembly of the engine, the body, the suspensions…
It is generally a relatively complex sub-assembly that requires the assembly of different parts from different processes.
Our production capacities allow us to combine: extruded profiles connected by hollow cradle nodes in aluminum casting. This combination offers a result that is both very light and resistant, while mastering the vibro-acoustic problems.